ざるそば Zarusoba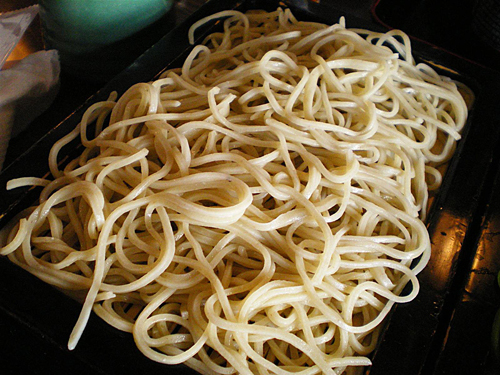 Zarusoba , boiled soba-noodles with dipping sauce ,is traditional food in Japan.
To learn about Japanese tradition , I'd like to discribe the way how to eat Zarusoba in this article.
First , pick up a morsel of Zarusoba in chopsticks.
Second , dip it in the dipping sauce.
You can add cutting green onion and wasabi to dipping sauce for flavour. Wasabi ,a kind of horseradish, is a japanese traditional spice.It is very flavour and acrid smelling. At the first time ,you may mix up wasabi with some poison. However, when you are used to it, you may not be able to eat Zarusoba without it.
Coming back to the point, Finally, move noodles dipped in sauce to your mouth.
You get pleasure of savoring delicious food. I hope you try Zarusoba when you come to Japan.