牛 Ushi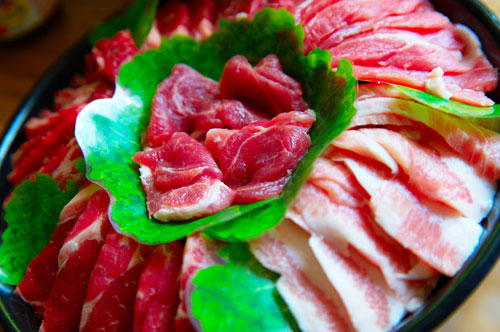 Beef is popular as much as chicken in Japanese ranking of meat.
Japanese have many brand of beef, and also has a special attatchment to beef.
We eat beef mainly the part of:
タン Tongue
肩ロース chuck
リブロース rib
サーロイン sirloin
フィレ fillet
バラ breast
スネ foreshank
モモ brisket
ランプ Sirloin butt
テール Tail
and also eat their guts that is called "Horumon". Each name is:
レバー liver
コプチャン  small gut
しまちょう  large gut
ハラミ outside skirt
ハツ heart
ミノ the first stomach
ハチノス the second stomach
センマイ the third stomach
ギアラ the forth stmach
We eat the almost part of beef!
My favorite is a liver and an outside skirt. Especially an outside skirt is incredible!
For your interest:
Cook's Thesaurus: Beef http://www.foodsubs.com/Meats.html