鮭イクラ丼 Sake ikura don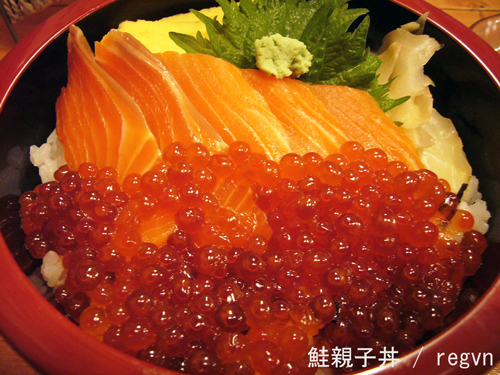 ShakeIkura-don is fresh salmon and salmon roe on rice in a bowl.
In Japan , we use the word "Oyako-don" that means "familly-bowl" , it is used in the sense of chiken and eggs in a bowl. ShakeIkura-don is sea-food "Oyako-don" in Japan. Because salmon roe is expensive ingredient , I think ShakeeIkura-don is big meal.
You can enjoy ShakeIkura-don reasonable in izakaya. So when you come to Japan on your trip, I recommend you to try to eat a ShakeIkura-don. If you'd love it, Tsukiji-Uoichiba may apeal to you. Tsukiji-Uoichiba is the most famous fish market. You may eat more delicious ShakeIkura-don there.