鮭ハラス Salmon harasu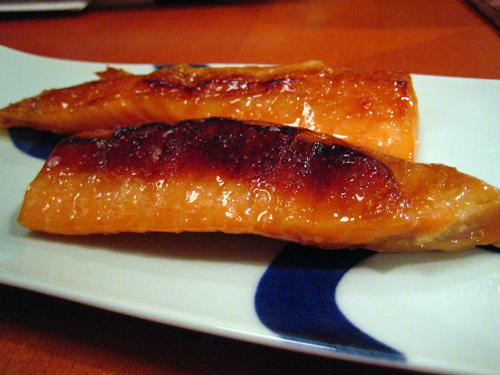 A salmon is very popular among grilled fish. Especially the Harasu (Japanese:ハラス), part of salmon, is paid attention in recently.
"Hara" of Harasu means stomach. It is a part of "Otoro (Japanese:大トロ)" if it says with the tuna.
When it comes to salmon's best season, it is marvelous taste of fatty fish. If you want to try natural salty taste, you eat it plain. My recommendation is to eat with a little lemon juice and soy sauce or a rock salt. You can enjoy the taste of salmon's Harasu neatly refreshingly in this way.
Grilled salmon is a rare menu in izakaya because a little bit too much salty taste is not match for the taste of sake. But the good amount of salt and their fat of salmon Harasu is the best for "Otsumami".
I like salmon Harasu very much and usually order it. Ah, honestly speaking, I occasionally order the fish at their best season…