ピザ Piza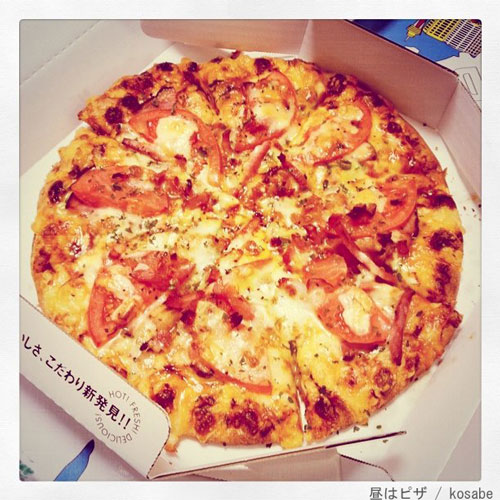 To say the least of it, pizza is not the Japanese cuisine.
So do you know why it is added to standard menu of izakaya?
Pizza is already loved as cuisine in not only Italia but also all over the world. And it is developing in each countries. In Japan, there is rice pizza that is made dough by rice, or changes the ingredients to Japanese oriented like a bamboo shoots, rice cake, seaweed. An American pizza is also different from an Italians.
So that to say, I think the popularity of a pizza origined from its universality.
About 25 years passed after the pizza began to have spread in full scale in Japan. As thought of the career of the cuisine in Japan, it is still green.
But the popularity is surprisingly high. It is maybe the third next to the Chinese cuisine in Japan. When you look for the restaurant in the city, you can find almost only Japanese or Chinese or Italians. Italian cuisine is suitable for Japanese because it has many dishes of seafood in comparison with others. And the health-oriented dishes or the casuality are also the good points.
By the way, there are some pizza delivary services in Japan and there is one big weak point.
That is the price. A pizza of size M costs over $24! Don't you think it is too expensive? It is not easy to repeat to order because of the price. This is so wasteful. How much is the avarage cost for pizza in your country? I don't think there is not big difference about its taste, maybe.