肉豆腐 Niku-dofu
Niku-dofu is tofu simmered with bits of beef. The restaurants have the original way of seasoning and the ingredients.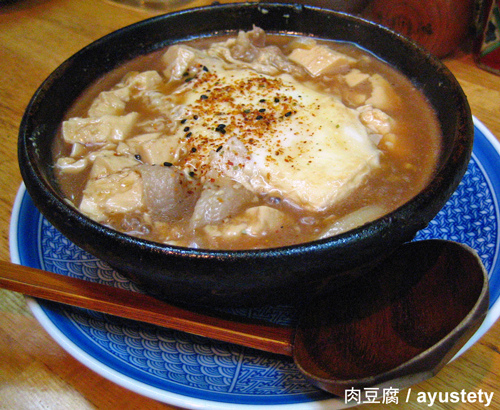 Don't you think it looks like sukiyaki? I have not understood though I examine the difference between the Niku-dofu and the sukiyaki.
In a personal image, it is a Niku-dofu that the bean curd is the main. It is a sukiyaki that meat is the main.
Eating applying the raw egg is a sukiyaki. It is a sukiyaki that there is feeling of luxury.
Sorry,it has become the story of the sukiyaki.
Niku-dofu might cook the vegetable etc. besides the bean curd and meat.
This is the Japanese most famous cooking TV program.

And this is easy way to cook a Niku-dofu.