ネギトロ巻き Negitoro-maki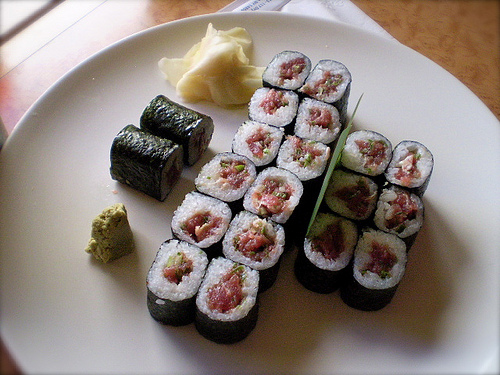 Negitoro-roll is very present in Sushi-restaurant. Unlike Salmon-Zushi , Negitoro-roll is a roll-type Sushi. It has Negitoro at the center of it.
Frozen southern bluefin tuna is used for high-quality Negitoro. Negitoro-roll is more reasonable than most of the other Sushi.
As soon as Izakaya has served Negitoro-roll , it became very popular food.
In izakaya , Negitoro-roll has usually 4 pieces in a dish. So if you were rubbing with 4 your bosses, It's strongly recommended that you get the Negitoro-roll anyway. I think that eating Negitoro-roll is more inportant than kissing up to your bosses.
Anyway , I hope you enjoy Negitoro-roll in Japanese izakaya.