もつ煮 Motsuni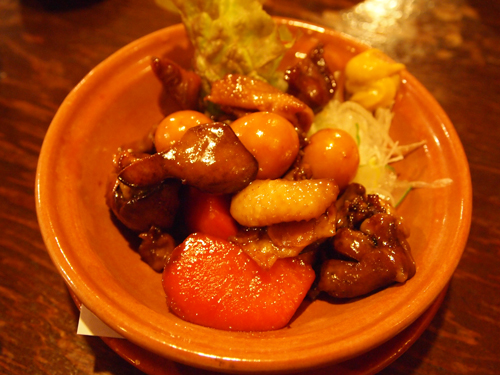 Motsuni is stewed giblets.
This cooking generally is miso taste.
The most popular motsuni is stewed beef innards, but it will also include the stewed pork innards and stewed chicken innards.
When you're ready to eat it, it will taste better if you sprinkle a smidgen of seven-spice chili mix on motsuni.
Motsuni developed a new road in 2010.
"Kofu Torimotsuni" of Yamanashi Prefecture Kofu City acquired the grand prix in B class gourmet grand prix of Japan.
Details of "Kofu Torimotsun" are here (Japanese only).
As for "Motsuni", there is soup and cooking for a long time is general.
"Kofu Torimotsuni" is cooked for a short time by the high heat with a small amount of sauce.
Bird's "Motsu" is coated with sauce that sweat and became like the candy.
It is a dish to which the good flavor is closed in, and glaze.
B class gourmet is a boom in Japan.