コロッケ Korokke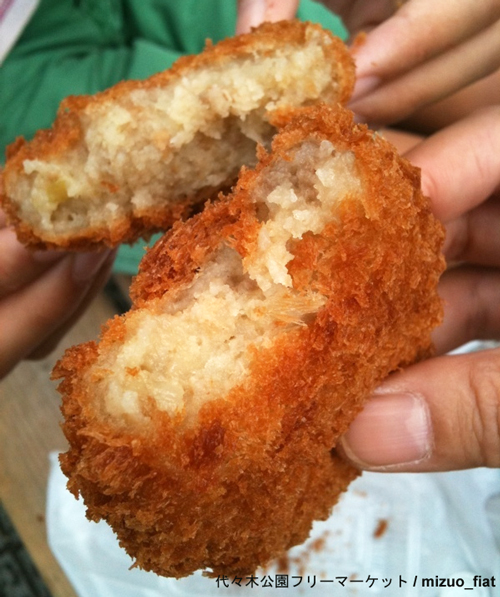 I took it into my head that Korokke (Japanese: コロッケ) is introduced from United States. But it was wrong.
I looked up just make it sure, it is originally related to a French dish, the croquette, according to wikipedia Japan. It was very surprised for me. Because it is made from not the potatoes but white sauce!
The korokke's being made from the potato is natural for Japanese. The potato korokke is the most popular in Japan and the sales of it are the highest in the frozen foods. Of course we sometimes eat meat and vegetable korokke, and also eat it with white sauce, but basically we eat the potato one the most.
Japanese are addicted to the balances of the taste of Japanese worcester sauce and deep fried crispy bread‐crumb coating, and the sweetness of steaming-hot potatoes. Now it is not an exaggeration to call it national food.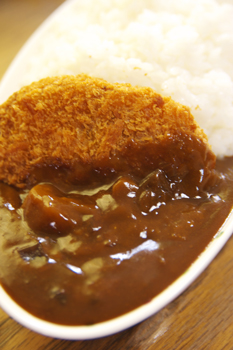 Japanese are good at combining something, so we combine korokkes to other dishes.
A curry and rice with korokke, a udon noodle with korokke, a korokke bun, a soba noodle with korokke, and so on. It is a very good combination of all. I think that they are favored with each other. Especially, I have no doubt that a curry and rice with fresh fried korokke is a superb piece of dish.
A long-familiar restaurant had a dish named "WARAJI korokke" at that time. WARAJI are sandals made from straw rope that in the past were the standard footwear of the common people in Japan. My friends and I used to go to eat it very well because it was considerably cheap for the size.