カキフライ Kaki furai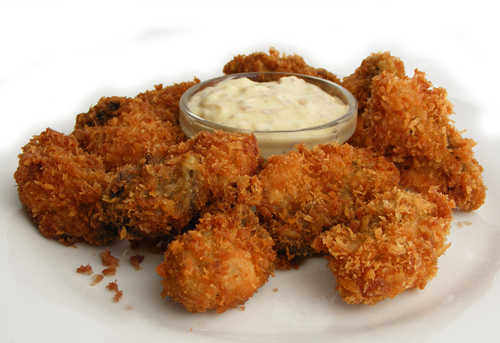 Kaki Furai "deep fried oyster" is one of the loved foods. But it is the food which likes and dislikes are divided into very much in Japan.

The reason why "Feel sick" ,"dislike smells", and "vaguely". I do not intend to have you come to like an oyster with them. But I think that they really suffer a loss.
The person who likes oyster fly knows that it is a top class in a lot of dishes that are. The Kaki-fry is very delicious. Because a juicy, mild oyster matches the batter bread‐crumb coating which is fragrant, and crispy. The variation of the taste such as the lemon, the source, the tartar sauce, and tomato sauce is a lot. It is delicious, and can choose seasoning by the favor.
Still, they dislike Kaki-fry. It is not possible to understand.
Please eat with Izakaya of Japan if you have not eaten the Kaki-fry. The oyster is most delicious in winter. Because the "season"come from December to February ,please do not forget it .