ホルモン焼き Horumon yaki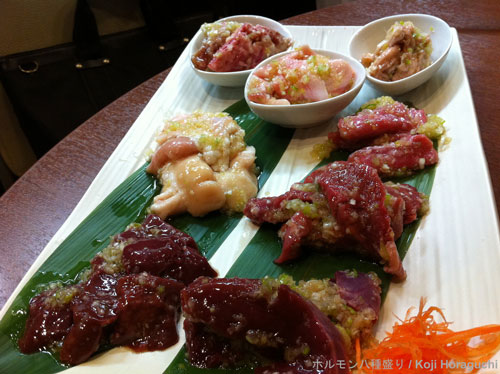 "Horumon-yaki" is the best "Otsumami" in izakaya. In particularly, an izakaya chiefly serving Horumons is called "Horumon-yaki ya".
The reason of their popularity is not only the taste of it but also the cheapness. It is flavored a sauce with sweet and spicy miso (soybean paste). The unique saltyness of miso and beers and Shochu is very good combination.
I am a big fan of Horumon-yaki. So I can drink a lot of mugs of beer with horumons. In old times, we had an image that Horumons always are eaten by middle-aged businessmen. Because the cheapness helps their small salary. But Horumons gained the citizenship by the hot pot Motsu boom several years ago, the positive image, cheap and casual, has become firmly established among the young generations. Moreover, it is getting to be took notice as a traditional Japanese food, why don't you try Horumons? Though it looks a little bit (much?) bad, I have no doubt about the good taste!