ほっけ Hokke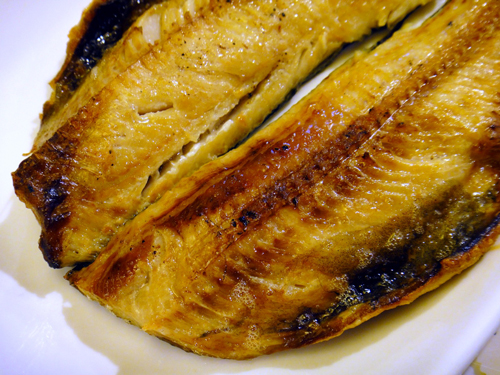 The king of grilled fish in izakaya, that is Hokke (Arabesque greenling).
Hokke is very popular because of the big size, easy to eat, and stable taste for years. I think the seacret reason that we unintentionally order a Hokke is candid but juicy taste and the unique texture of it.
It is very good to eat Hokke with grated white radish and soy sauce. And as is often the case with drinking party in multiplayer in izakaya, they shares a Hokke because the size is about 24inches.
In old times, Hokke is not for food because is famous for its perishablity. After the war, we come to have a better opinion of that, Hokke became the standard menu of izakaya.
Just like a saying "It takes time to accomplish something worthwhile" or "Practice makes perfect", perseverance of Hokke leads to success.