冷やしトマト Hiyashi tomato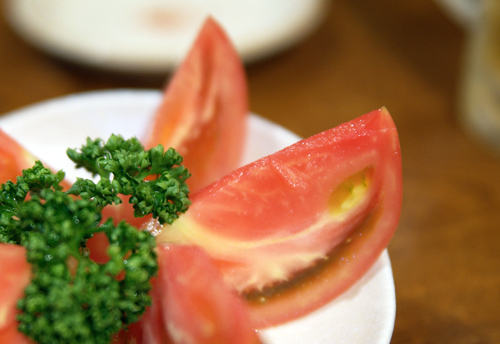 Hiyashitomato is cut cold tomato into bite-size pieces food that will be eaten without being cooked.
The seasoning vary from area to area, it is often served with salt and dressing.
A refreshing dish of sweet and slightly sour tomatoes.
■Nutrients and efficacy of tomato■
Tomatoes are rich in nutrients and have high efficacy; it is commonly said that "a tomat a day keeps the doctor away" in Germany and other parts of Europe.
Tomatoes contain high values of lycopene, which is a red pigment, rutin, Vitamin A, and Vitamin C. Vitamins H and P are also found in tomatoes.
Lycopene reduces active oxygen, which responsible for the progress of aging, and prevents cancer. Tomatoes are also known to prevent blood from clotting.