チーズフライ fried Cheese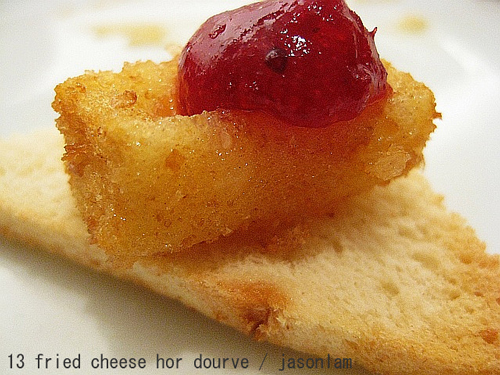 There are two kinds of cheese fries depending on the cooking method in izakaya. One is crisp fried cheese wrapped in skin of dumpling, and the other is the deep fried bread‐crumb coating cheese. The former is made from prossesed cheese and the latter is made from camembert cheese.
Both can eat like a finger chips, exactly they fit for "Otsumami". Japanese love of Italian cooking would had listed up to the menu of izakaya because they goes with wine to say nothing of the beer. The Japanese are highly receptive to new ideas that thought to be a good. It is a Japanese feature when there is no standards.
Now that I think of it, when I was a university student, there is a girl whom I one-sidedly favored. She likes Italian food, and always ordered cheese fries when she and I went to izakaya. So I have memories drunk while enduring the wine that doesn't become accustomed at that time. To our regret, it never contacts her now, but an association with the cheese fly continues.
Because such an event happened, Whenever the name of cheese fries is seen on the menu I have mixed feelings a little.