エビフライ Ebi furai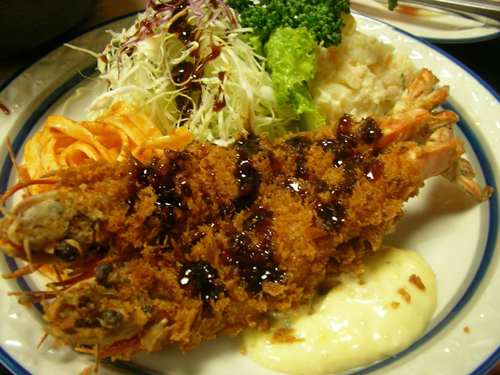 "Ebi furai" the deep fried shrimp  is a king of the dishes in Japan.

The reason why Japanese love "Ebi furai" is that the texture of batter bread‐crumb coating and prawn's deliciousness are the highest.
It is well known that "Ebi furai" is origiated in Nagoya prefecture in Japan. And the original pronunciation is not "Ebi furai" but "Ebi furyaa" . But please pronounce "Ebi furai" normally because "Ebi furyaa" is a local and mere pronunciation nowadays. Be careful.
Japanese children loves "Okosama ranchi (means special lunch plate for children)". That contains hamburg steak and Ebi furai . As for me, in the childhood, it was very pleased to eat "Ebi furai". I think I had an image that the "Ebi furai"  is something good for me without reasons. The "Ebi furai" is still popular dish for kids. Reasonable restaurants especially for the family called "Fami resu" is sure to be recorded in the menu.
By the way, do you eat the tail of shrimps?
There is an argumentation about how to eat "Ebi furai". That is "Whether or not you eat the tail of shrimps".
I don't eat, and you?
Oh…He misunderstands Ebi furai as a Tempura.