チャーハン cha-han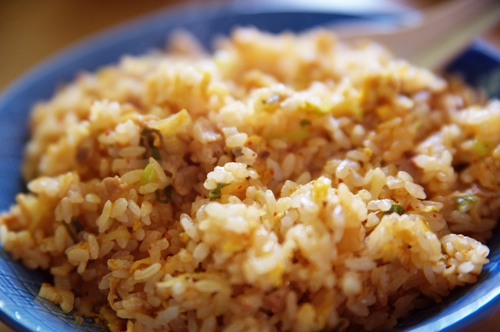 cha-han cooks by stir-frying the rice of the China cradle. Looking like a piraf, but the there is a difference of the way to cook.
cha-han:Stir-frying rice
Pilaf:rice cooked in well-seasoned broth
cha-han is a Chinese cuisine that stir-fried rice with a variety of ingredients. It is popular also in Izakaya though it is a Chinese cuisine. The foodstuff stir-fried with the fried rice is various. Beef, pork, lettuce, crab, garlic,leaf mustard, and Kimchi, etc. ・・・
There is simple fried rice with sticky sauce called "Ankake cha-han".
A numerous amount might be offered according to the shop. (Especially, the tendency is in the Chinese restaurant. ) It is said that not eating everything, and a little leaving are manners in the Chinese cuisine. Finishing eating everything seems to think about "It is shameless" or "It is very greedy". Moreover, all eaten things are and there is a meant theory when it wants the change.
Please eat everything in Japan because it is a story of a Chinese culture. in Japan,there is a culture that it is impolite to the person who cooked to leave the dish. However, please note the overeating.